Just wanted to say a quick thank you for making Jennas 6th birthday so memorable! We had a wonderful time and eveything was so so clean! Keep up the excellent work Amazing Adventures!!! [June 8th, 2013] [Fiona S]

Thanks soo much!!! Our little Princess had her 5th birthday at your great play palace! Everyone had an awesome time, everything was very clean, staff very organized and friendly, I would recommend to anyone!! Thanks Helen :)) [April 5th, 2013] [Helen]

Me my husband and two children first came to a party last month and had a fantastic time. The front staff at reception were extremely polite and explained how everything worked. Since our first visit, we now come to play at least once a week! It is great value for money, very very clean the staff are constantly cleaning and disinfecting throughout the day. Just go early when its raining or a holiday it tends to get busy! My little guys always have a great time wearing themselves and me out. [March 15, 2013] [Reza A]

WOW what a place! So many different structures and games for kids! My kids are 4 and 6 so we tend to visit many indoor playgrounds for birthday parties but Amazing Adventures is clearly the winner by far! We had 2 parties to attend in 2 days - since my 6 year was invited to a party on the Friday night at 5:30- 8:00 and my 4 year old was invited to a party on the Saturday morning at 9:30 for Pancakes - Yummy! Both parties were tons of fun. The service was outstanding and the play facilities are absolutely amazing but what really blew my mind was the cleanliness!! When I walked in on the Saturday morning the playland was spotless! Carpets, playgyms, tables, floors, everything!! I am looking forward to booking my kids party in the New Year! [Nov 5th 2013] [Janet S]

This place is so fun and awesome !!!! My 3 and 6 year old LOVE it here! I have to drag him out every time we come to play!! The great thing is that they have locked gates and the staff are the only people who allow you in and out. I can be sitting on the couches or chatting with a friend and still be assured that they playing in a secure playground - big bonus for parents with kids that tend to run! My youngest asks me everyday "mommy, we go to play place today?", sadly, we can't go everyday....but he would love it even more if we did! [Aug 13th 2013] [Courtney C]

Just recently had my sons birthday at Amazing Adventures Burlington. Thank you so much for helping to make it a special day for him. He and his friends loved it there!! [May 7th 2013] [Cheryl H]

I recently attended one of my sons friends party; my kids and I had so much fun!! Thanks Amazing Adventures Playland [March 6th 2013] [Emiliana A]

Just got off the phone with Nick regarding a possible birthday party at your facility. He was incredibly helpful and so friendly! You've got yourself a brillant employee there, kudos! [February 8th 2013] [Jaxx S]

I was at the Amazing Adventures Playland the other day with my kids - the place is awesome and very friendly! [December 29th 2012] [Keegan R]

Thank you so much for the "Amazing" Pirate-themed Birthday Party for my daughter. Everything went so smoothly and all the children had such a fantastic time! You definitely delivered on everything promised!! I will defintely recommend your business to all my family and friends. Many Thanks!! [September 13th 2012] [Renee S]

"Bal, Greg and I would like to thank you for the amazing customer service from start to finish for our party tonight for lucas! From the start of my planning just a few days ago (and you calling me from your home holiday monday after hearing our our last minute need to host a party) to the flexibility of our ever growing number of guests to food choices and the smooth running of todays party, we were delighted! The parents were amazed at how quiet your new area was and allowed for grown up time to talk!! The children had a great time and we just wanted to again, thank you for a very last minute, successful, smooth running party. From start to finish, you all were so helpful!!! Thank you! [September 6th 2012] [G, J, E & L]

Thank you so much for hosting our daugthers 1st and 3rd birthday party. Not only have our guests been raving about the party, but also how fun and organized Amazing Adventure Playland was for the kids. We threw a "YO GABBA GABBA" theme party ...you were very accomodating and in tune with our needs. We would recommend your playland and party packages to anyone. By far superior service to all of our guests and especially to our birthday girls! Cheers! [July 25th 2012] [Tara. M]

My kids absolutly LOVE this place! They are 9, 3, and 8mths and all of them can have fun at Amazing adventures. My husband and I get to sit and chat on the comfy leather couches and the kids all burn off their energy and have a blast. Plus they will sleep no prob once we get home!!!! I can't think of anything better for a nice little family outing. We are definitley hooked on this place and rave about it to all our friends. If ya havn't been.....give it a shot, you and your kids will have an "Amazing" time. :) [June 30th 2012] [Laura. w]

By far the greatest indoor playground I have ever taken my daughter to. Such a great variety of activities, jungle gyms, etc. for the kids to play one, plus tons of seating for parents. I love that Wi-Fi is available so I can get work done while she plays. The space is HUGE, and we didn't feel crowded in the party room. It is a great value whether your're hosting a birthday party, attending a birthday party, or just dropping by. Worth every cent! [June 11th 2012] [Kyla. S]

LOVE THE NEW ADDITION! We enjoy this playland ANYDAY over Little Monkeys! This facility is clean, friendly and welcoming. We also really appreciate being able to bring in our own food, since we have dietry restrictions! And the PRICE IS RIGHT!!! [May 22th 2012] [A.D]

To Everyone at Amazing Adventures Playland! Thank you for making Chloe and Cameron's party so special! Love Catherine, Dave, Chloe & Cameron [May 6th 2012] [Catherine M, Burlington]

My 4 and 3 year old came to play at your indoor play facility today and we blown away!!! They had the best time. What a wonderful way to spend Mothers Day weekend with my kids. Thank you for providing such a clean, fun and encourahing play center. We can't wait to come back to play. [May 12th 2012] [Kate M]

To Everyone at Amazing Adventures Playland! Thank you for making Chloe and Cameron's party so special! Love Catherine, Dave, Chloe & Cameron [May 6th 2012] [Catherine M, Burlington]

We were just there for my daughters 4th birthday this past weekend and everyone loved it! [May 3rd 2012] [Amber R, Burlington]

Max's 3rd birthday party was a blast! The kids all had the best time and service we got from the staff was excellent!

We had kids of all ages from 1-10 years old and each one of them raved about the party. (of those who could talk of course :) ) Nobody was bored for a second and the parents all got a chance to relax on the comfy couches while the kids played. Max still asks to go back every weekend and it's been 3 months. Thanks again! [April 27st 2012] [Karina T-G, Burlington]

Amazing Adventures is a great place to take your kids. The staff always make you feel so welcome and the playland is so relaxing! The kids can play and you can sit on the great couches with a coffee and just relax. Why would anyone want to try any where else .this place has it all. ITS AMAZING [April 21st 2012] [Shirley J, Burlington]

Hi Bal, Aaran Nick and all the staff at Amazing Adventures Playland. We just want to thank you all for a very wonderful, memorable and perfect birthday party for our son's 7th birthday last Saturday, March 17th 2012. We all had a great time! We will definitely come back and refer the place to some of our friends and relatives who have not yet booked at your place! The truth is, Bal, Aaran and Nick are very hospitable! We felt like we're a family, we were very comfortable sharing our ideas and plans with them and they supported us all they way through. We love you all! See you guys soon :) [March 17th 2012] [Ann-Katherine G, Burlington]

I was there today taking pictures for a 1st birthday party and might i say , WOW, I could not believe the difference in size, the number of party rooms and so much more for the kids to do! I will be brining my toddler there more often, she'll love it even more now :) [March 4th 2012] [Lee-Ann W, Burlington]

Good afternoon Bal, Nick, Aaran and Ayari
I didn't want the week to fly by without thanking you for a wonderful 6th birthday party for Declan this past weekend. We just love coming to your space and we were proud to have family and friends join us there. Having a morning party worked so well because it wasn't too busy, the kids could really roam about and try everything, and it fit with so many people's schedules. The staff was and is always attentive and we appreciated the spotless room, delicious breakfast, coffee and tea, and most of all, knowing that the kids were going to have a fantastic time. They really enjoyed coming dressed as super heroes and your new addition was huge hit as they jumped and slid their way across galaxies and 'saved the day' on more than one occasion. It was a great morning and won't soon be forgotten. We will be back soon... [January 23rd 2012] [Amy, Wayne and Declan, Burlington]

Thanks for a great venue for our son's 1st B'day party yesterday! Everyone had a GREAT time!!! We will definitely be back for more fun. [January 16th 2012] [Nicola P, Burlington]

Hi Bal, Thank you for everything on Monday. My family and friends had a wonderful time at your playland and they LOVED you new facility! It was fantastic!!! Thank you! Wishing you all the best in 2012!! [December 29th 2011] [Sandy P, Hornby]

My best friend and I took her sons to the indoor playground yesterday. We had so much fun! We had a 1 and a half yr old, a 3 yr old and 4 yr old. They had a blast! The 1 and a half year old had plenty to keep him busy, with our assistance up and down the bigger slides, all the cars to drive and the house to iron in. So cute to see him interacting with different things. The 3 and 4 year old had a blast going down the slides by themselves or the big yellow slides with our supervision. It was so much fun, they said that was the best day ever! They also loved the batman bouncy castle! The new addition reminded me of Discovery Zone, which was the best indoor playground place when I was little! We are definitely going to hold at least 1 of the boys birthday parties there in the near future. Thanks for the fun day! [December 28th 2011] [Stacey & Sondra, Oakville & Toronto]

Hi Bal, Thank you so much to you and your team for a wonderful Kids' Christmas Party on Sunday. Everyone had a great time, and your new facility is great! [December 23th 2011] [Jennifer O, Burlington]

Hello, I just wanted to say a huge thank you to all the staff for making our son's 5th birthday party the most enjoyable and stress-free birthday party we have ever hosted! I had parents coming up to me all night telling me how great the service was, and how much fun their children were having. The new expansion next door with the Batman inflatable is a huge hit with the kids and the comfy sofas were the perfect end to the party for the parents. The party room and playing areas felt very spacious - we were very impressed! We will most certainly see you again next year for Christopher's 6th birthday - I can't wait to come back again!!! [Dec 15th 2011] [Olivera, Milton]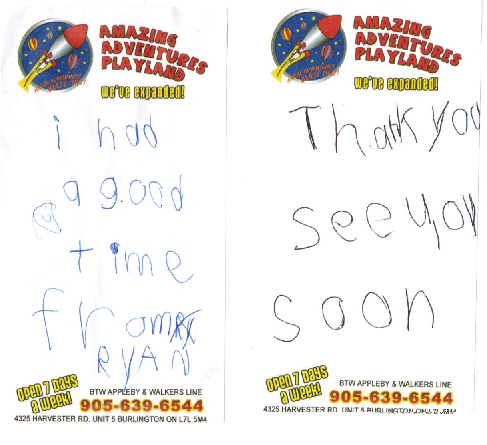 [November 29th 2011]
[

Ryan S, Burlington - Age 5]

Dear Bal, Aaran, and the Wonderful Staff at Amazing Adventures...
My husband and I would like to thank you for making our daughter's 5th birthday so fantastic and memorable. Sofia has told us that this was her "best birthday ever", and we know that all of her friends had a great time too. Your staff are all warm, caring, and friendly, which really made our experience a great one. We have been to other indoor play places in Burlington, but I really feel that none of them compare to Amazing Adventures. It's your superior customer service that sets you apart, and I can confidently say that we'll be back for another party soon. Thanks so much to you all! [November 20th 2011] [Karla W, Burlington]

We had Abigails 5th birthday party yesterday at Amazing Adventures and just wanted to send you a note to say thank you so much for helping to make her day so special.
Thanks again to your family! [November 9th 2011] [Denise, Burlington]

My daughter absolutely LOVES Amazing Adventures! She talks about the 'yellow slides' for days after a visit, and if we tell her she is going to the park she instantly asks if it's the "big one with the big yellow slides I like!" Needless to say the playground near our house just doesn't live up anymore! [October 2011] [Jessica. W]

We come here all the time with my kids and friends. I can honestly say that you have the kindest staff, cleanest environment and always think of the best ideas to make our kids experience the best it can be?..thanks so much for YOU!! [October 11th 2011] [April. R]

We love Amazing Adventures because it is a guaranteed clean play space. The staff are wonderful and so kind. The structures are large enough for the kids to feel they are playing on their own but not so large that we lose sight of them. There aren't huge crowds all at once or numerous parties at the same time as play time which makes the space fun but not overwhelming. I know our son is safe and will have a great time. If we have had concerns about other kids playing rough or disrespecting the rules, we feel comfortable addressing it with a staff who we know will follow up right away. We are thrilled that you are expanding and look forward to the "Amazing Adventure" ahead! [October 11th 2011] [Amy. O, Burlington]


WE LOVE AMAZING ADVENTURES! I have been a frequent visitor of AA for quite a few years now and it has YET to disappoint! Bal is SUCH a sweetheart with a staff that is second to none! They are all so helpful & sweet and cannot do enough for their customers! It's super clean, very safe, very comfortable, very affordable, and oodles and oodles of fun! Birthday parties are the best and she makes the birthday child feel so special while taking the bulk of stress off of me! My son loves the baby & toddler area! It's nice to know she caters to even the smallest of customers...I can't say that about too many other indoor play centres in the area. How a child can or would get bored there is beyond me! I HIGHLY recommend this facility![July 14th 2011] [Jenny J, Burlington]

Amazing Adventures Playland is very clean and has a warm and welcoming feeling from the moment you enter! The staff is friendly and the price is reasonable. I have a 4 1/2 year old daughter that loves playing and climbing. I feel safe letting her run and play when I sit on one of the many couches to watch and relax because i can always see where she is. The staff is very nice and has taken time to get to know me and my daughter. [July 12th 2011] [Neil, Burlington]

I just wanted to make a note, that your place is very organized, and you really made Mila's 7th party great [April 17th 2011]!! Your staff are very helpful, and I had time on my own, to enjoy the party because of the help! I thought 2 hours would be short, but it was great and we had time for everything all because you are very organized and helpful. Thank You! [Lilla, Burlington]

Just had THE BEST time co-hosting a party for 11 two-year olds! [February 19th 2011]. Amazing Adventures Playland rocks!! [Sarah Hill]

Thank you all for a fantastic party for Samantha today [January 15th 2011]. She and her little friends had a fantastic time and the only tears were from two of the kids who were upset when it was time to leave!!! Keep up the good work!!! [Val W, Oakville]

My daughter recently celebrated her 6th birthday party at Amazing Adventures Playground in Burlington [January 2nd 2011]. Our experience was truly amazing! The owner Bal, her sons and her staff were very helpful and polite. The playground and party room was clean and my daughter and her friends had a great time. I would definitely recommend Amazing Adventures to anyone looking for a safe, clean, and fun environment for their child's party. [J. Diaz, Oakville]

When I think of birthday parties, I think of Amazing Adventures Playland. I have had several parties here for both my kids over the years and would recommend Amazing Adventures to everyone. There is plenty of room for parents to relax and watch the children playing Amazing Adventures is always my first choice for booking. [Peter B]

Thank you sooooo much for making our special day even more special we all had a blast not just the kids , the place is neat, clean and well designed for the kids , I will recommend this place for everyone , you and your family are so kind and helpful you made us feel at home. Everyone loved the place and our Eid Party was a hit because of you guys! Thanks! [November 10th 2010] [Shaza. A, Oakville]

It was a sincere and true pleasure meeting the wonderful family which owns and operates this indoor playground. Thank you Bal, your husband, and your son for making Joseph's 7th birthday [November 8th 2010] , and our experience and wonderful one! With nothing to do but relax, this playland offers a wide variety of toys, climbers, slides and games which were enjoyed by the youngest, being 2, through to the adults (60+), which entering the playland, become young at heart! The play area was constantly monitored, and the facility offers numerous hand sanitizer stations! With benches throughout, and sofas galore, you never needed to look for a place to relax!
We have had a few of our parties at Little Goobers and Chatters in the past, but I must say, we were never waited on, and more importantly, these other facilities did not walk through and monitor at all! A party was just leaving when we arrived, and the tables were all washed down and sanitized promptly! With our son having a peanut/treenut allergy, to walk through the whole playland and see the cleanliness, I felt rest assured, as it is a PEANUT/TREENUT FREE facility! We enjoyed when Bal announces over the microphone, for the children to come in for the pizza, and then again for the cake. We had never experienced this at our other facilities in the past!
With the employees setting up, arranging the food and beverage area, the gift table and offering any helpful advise, along with the cleanup, there was nothing for us to do! I would strongly encourage Amazing Adventures Playground to anybody thinking of having a party! They do all of the work, and you just relax! Thanks for our wonderful experience. It was definitely worth the drive from Hamilton. We look forward to our next visit! Sincerely Appreciated, [Nicole, Angelo & Family, Hamilton]

Just wanted to leave a short note to say what a wonderful time we had at Amazing Adventures Playland! [November 3rd 2010] We have two girls a 4 year old and a 10 month old. My four year old loved the bounce house and slides and climbers but I was most impressed by the size of the toddler section and the high quality of the toys there. Most of the other indoor playgrounds in the area only have a few exersaucers or blocks for the babies. My baby was very entertained and didn't want to leave! Can't wait to have my 4 year old's party there in January 2011. [Jenny K, ]

This is a quick note to say thank you to Bal and her family for the wonderful experience our family had at Amazing Adventures Playland. Unfortunately, on the day of the party, my one daughter came down with the flu and we had to cancel the party at the last minute! [October 6th 2010]
Bal was so accommodating!!! She told me not to worry and we would reschedule at my earliest convenience. I really did feel that she cared about my family's well being. Bal's level of customer service was excellent! On the rescheduled date everything was great! The staff was courteous and the playland was very clean. They were also very helpful during our private party. Our daughters and their friends had a wonderful time! Thank you Bal! [Tanya P, Burlington]

We recently had our son Clark's 5th birthday party at Amazing Adventures [September 25th 2010] and it was fantastic!!! Bal and her staff really know how to make things run smooth! The atmosphere was pleasant, the food was delicious, the building is clean and well maintained and the kids had so much fun playing! Thanks again for such a terrific day!! [Roberta W, Hamilton]

BaI, I just wanted to say how amazing your facility is! I hosted my son's 1st Birthday this past Saturday [September 18th 2010] at your Playland and our guests were extremely impressed at how clean and fun your facility is for all ages! We live in STOUFFVILLE/BALANTRAE which is 1 hour and 10 minutes from your location and we absolutely HAD to have our party at Amazing Adventures!! We scouted many facilities including ones closer to home and not one impressed me as yours did! I knew our guests would be a little upset with the travel...until they saw what we were brining them to! And I was right they loved your facility! That same evening I had multiple texts from families and friends who attended my sons 1st Birthday at Amazing Adventures to say thank you and that their kids had an AMAAZZZZIIINGGG time!
We are in love with your facility and most importantly the hospitality of your staff. Bal, you and your family made our experience Tops in our book! So kind, courteous and considerate to name a few words that come to mind when I think of you and your family who run this fabulous Playland
We love you guys and are so happy to have stumbled your way on our search for a fabulous facility for our Son's Perfect Birthday Party! I have nothing but amazing things to say about you and your facility so again thank you so very much for this experience and allowing us to enjoy your facility. We love you guys! We will just have to make this a monthly visit as long as you guys are there! We even returned for a play date with my son 2 days later!
[Selena & Michael, Stouffville/Balantrae ]

Thank you Bal and Aaran! Kaden absolutely LOVES Amazing Adventures Playland and can't wait till next year to have his birthday party there ! Truly a FANTASTIC place to have a kids party !! [Sunday June 13th 2010]. [Sherri V.S, Oakville]

Bal, I just wanted to drop you a note to let you know how happy we were with Lexi's party [Wednesday March 24th 2010]. The upgrades that you have made to the facility are fantastic and we will be returning. I appreciate that you cater to all ages. Thank you very much and we had a fantastic time! [K.G, Waterdown]

Amazing Adventures is a great place. We just had our daughter's birthday party here last weekend [Saturday 13th February 2010] and it was fantastic! Bal and her staff know what customer service is!!! Everyone kept reminding us what a wonderful time they had and how the staff treated my daughter like a princess. Whether you are having a party or going for open play, I highly recommend coming to Amazing Adventures- you will have a great time!! I have already booked my sons birthday for August. [Julie T, Burlington]

I am always impressed at how clean the playland is and everytime we go to play, the staff are always cleaning! It is very family friendly and I always appreciate the option to bring in my own food - which is important to us. All of our grandkids love coming to Amazing Adventures. We have tried and tested other places and there is no comparison! This is a great spot for children and adults!‎ [Debbie R, Oakville]

Amazing Adventures is well over 5 stars! We love Amazing Adventures! Love it love it love it! I just purchased yearly passes and will be making the most of them! It's the best indoor activity center in this area and it is the perfect place to entertain our three kids ....ages 7, 4 and 21 months. [Shelly P, Waterdown]

We have attended around 15 birthday parties at this playland, from about the time my daughter was 2 years.We found the party to be very well organized and there was plenty for the kids to play with. A new play structure has just been installed as well as the arcade games [which my daughter loves]! The owners are really nice and were very helpful and even when our party time finished, we were not rushed. Book your children's birthday party here! [Karen B, Hamilton]

This place has it all! Slides, Inflatable's, Motorbikes, free arcades. There is plenty for the kids and adults to do. You can bring in your own food and they don't charge for adults. The staff are very friendly and helpful and I just bought monthly passes for my kids. I would recommend Amazing Advenntures Playland for birthday parties and also just to play. It's so clean and tidy and the staff make sure we have a great time. This place is the best playground in Burlington and we've been to them all!! Nothing compares to this service!‎ [Alice & Beatrice Shaw, Burlington]

I would give Amazing Adventures Playland a "wow" since the new ownership a few months ago. The place is always clean, the toys are new, the staff is very friendly, and their monthly pass membership is a big savings for parents with a budget. They have activities for all ages - even adults! The new infant section has worked really well for me and toddler, and they have plenty to keep my 2 year-old, and my 9 year-old children busy. I came to my friend's son birthday party last month, and will definitely have my children's birthday party there. [Sam L, Milton]

Hi Bal, Just wanted to thank you and your staff for our daughter's great party yesterday [28th November 2010] . Everyone had a great time, and will definitely recommend you to others and keep you in mind for the future. [T & J, Smithsville]

Bal and her staff did a wonderful job organizing my child's birthday party. The new owners are really kind and work hard. I heard from my friends that Amazing Adventures was a great choice for a party. They didn't disappoint! From the planning stage to the night of the event, Bal kept the party moving smoothly and efficiently. We were very happy & will be back again. This is a great place and very clean.‎
[Rebecca Heigh-Lawerence, Burlington]

I recently had my 5 year old son and 7 year old daughters party here in [January & April 2009]. The service was fantastic and the cleanliness was unbelievable. Amazing Adventures has it all - play structures, inflatable's, motorbikes, free arcade games - everything for the parents. Check this place out - we are from Oakville and have decided to book our third child's birthday party at Amazing Adventures! We have already received invitations from our neighbors children having their parties here too!!‎ [Julie, Oakville]